Top 6 Picks for Guilt-Free Makeup You Can Sleep In Overnight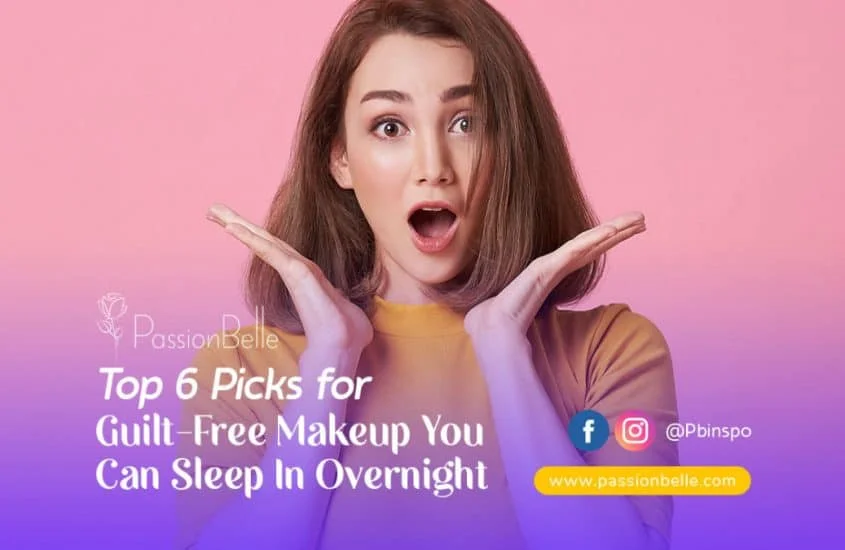 Just like many of us, your days are filled with work, school, friends, family, hobbies, fitness, errands (and a zillion other tasks). So the only thing you want to do once you get home is crawl into your precious bed and enter dreamland. But wait… you've got to remove your makeup first! *groan* That is, unless you already wear the kind of makeup you can sleep in — completely guilt-free!
What Happens If You Sleep In "Normal" Makeup?
But first, why do you even need makeup you can sleep in? What's wrong with wearing "normal" makeup to bed?
Well, sleeping in your usual makeup for one night is unlikely to cause long-lasting damage to your skin. But if you continue to do so, your pores will become more clogged. This means those dreaded pimples will come to the surface, fast and furious. Which is doubly disastrous for those who already have acne-prone skin! If those breakouts do show up uninvited, send them packing by using No B.S Skin's acne-fighting skincare line.
Sleeping in "normal" makeup also deprives your skin of the chance to recover from oxidative stress that accumulates during the day. The result of that? Premature aging.
And to make things worse, "normal" makeup will hold on to more free radicals in the environment throughout the night. Free radicals break down collagen in the skin over time. So before you know it, you could be saying hello to some fine lines on your face.
Is There Really Makeup You Can Sleep In?
Yes, because beauty companies realize not everyone has the time, energy, or means for a thorough makeup removal routine every night. Whether you're a busy college student or an exhausted, working mom, you deserve a beauty hack!
So what kind of makeup can you sleep in without destroying your skin? Are there products you can use safely that won't cause overnight breakouts? What about products you can use to remove dirt and oil that will not remove your makeup?
We've scoured the market on your behalf to look for the best makeup you can sleep in. Here are a few kinds that we recommend if you're often too tired or unable to remove your makeup at night.
1. Sephora's Matte Lip Stain
Lipstick that's long-lasting AND can defy the hazards of food and drink? Sign me up!
And if you have to sleep in your makeup due to a hot date or something, Sephora's wand lip stain has your back. This is makeup you can sleep in without losing color or having a bizarre, bleed effect. It also remains consistent throughout the night.
2. Bare Minerals Foundation
The key workaround to sleeping in makeup is finding a type that won't irritate your skin. So if you need makeup you can sleep in, try looking for light products when it comes to foundation and powder.
Bare Minerals Foundation is a very gentle, simple, and light foundation you can use on your face all day and night. That's because it doesn't contain a multitude of ingredients that impact the skin's breathability. So your skin will still have space to recover from oxidative stress and not get its pores too clogged!
3. Charlotte Tilbury's Genius Magic Powder
The Bare Minerals Foundation will reduce the appearance of pores and have a delicate impact on skin. But many still choose to pair foundation with powder for setting impact.
Something like Charlotte Tilbury's Genius Magic Powder is a fantastic complement to your light foundation. The "magic" it contains is spherical silica. This ingredient is a mattifiant, which means that it reduces shine.
This makes it a suitable kind of makeup you can sleep in. That's because a foundation with a mattifying effect will help protect your skin from breaking out overnight.
4. Acne-Fighting Concealer
The trick to making makeup you can sleep in work for you is to use an acne-fighting concealer on certain spots during the day. This enables you to hide blemishes while fighting them.
It also makes sure that you cover the pesky spots even if you fall asleep with the makeup on, so they won't get worse.
For this, we recommend Clinique Anti-Blemish Solutions Clearing Concealer.
PASSIONBELLE'S TOP 6 PICKS FOR MAKEUP YOU CAN SLEEP IN
But What About Sleeping In "Normal" Eye Makeup?
Surely eye makeup isn't as bad as makeup that's applied directly on your face?
While sleeping in "normal" eye makeup won't cause fine lines or acne on the skin, it can still lead to problems. For instance, your pillow can rub mascara and eyeliner off, and end up in your eyes. This can lead to significant eye irritation.
Sleeping in "normal" eye makeup repeatedly may also clog the tiny hair follicles and oil glands on your eyelids. This in turn allows bacteria to build up and cause inflammation. When that happens, you may notice small bumps forming on your eyelids. And in many cases, they require treatment from a doctor.
So we strongly suggest that you keep makeup remover pads by your bed. This way, you can at least wipe across your eyes before falling asleep.
That being said, there are a few kinds of eye makeup you can sleep in which we recommend.
5. 24/7 Waterline Eye Pencil
This stylish, Urban Decay eyeliner is specially designed to stay on overnight. So if you apply it late in the day or sleep in it, it will still look fine.
We recommend this due to its strength. If you fall asleep in this makeup, it won't look terrible the next morning.
6. Tarte's Smudge-Proof Mascara
No one wants to wake up with rings of black around their eyes from mascara after falling asleep in their makeup. Although you can remove the smudges with wipes or strong toner, these might not be on-hand.
So the next best thing is to search for tried and true mascara that has been developed for active users to resist smudges. One example is Tarte's Lights, Camera, Splashes Waterproof Mascara, since waterproof mascara is durable and can stay on overnight without fuss. We totally recommend this one as a mascara you can sleep in overnight.
Bonus 1: Glamnetic's Magnetic Eyelashes
These aren't strictly eye makeup, but they do wonders for your lashes. Available in different shapes, lengths, and even colors, Glamnetic's Magnetic Eyelashes are perfectly safe for you to sleep in.
That's because they don't use any eyelash glue, and the magnets make it easy to put on and remove in just a few minutes.
Bonus 2: Blissy's Silk Pillowcases
While a Blissy's Silk Pillowcase isn't makeup you can sleep in, it can do wonders for your skin when you sleep.
As it has 43% less friction than cotton, makeup won't "stick" to it and increase the risk of irritation or allergies. Its 100% Pure Mulberry 22-Momme Silk material also helps your skin retain moisture and reduce wrinkles.
All this can contribute to your glowing, youthful skin — on top of the help that makeup you can sleep in will give you!
For more great content, join our newsletter starting soon!