6 Cute Easy Summer Hairstyles For Medium Length Hair
Chances are, your hair ends up in a messy top bun most of the summer, and I don't blame you. After all, it's already tough enough to decide what to wear when all you want to do is dive into the nearest swimming pool. On top of that, I have to think about styling my hair too? Ugh. But, there are other fun and super easy hairstyles you can rock that don't require your straightener or hair curler. (Thank goodness!) Let's ditch the hot tools this summer and go au naturel with these 6 super cute, easy summer hairstyles for medium length hair!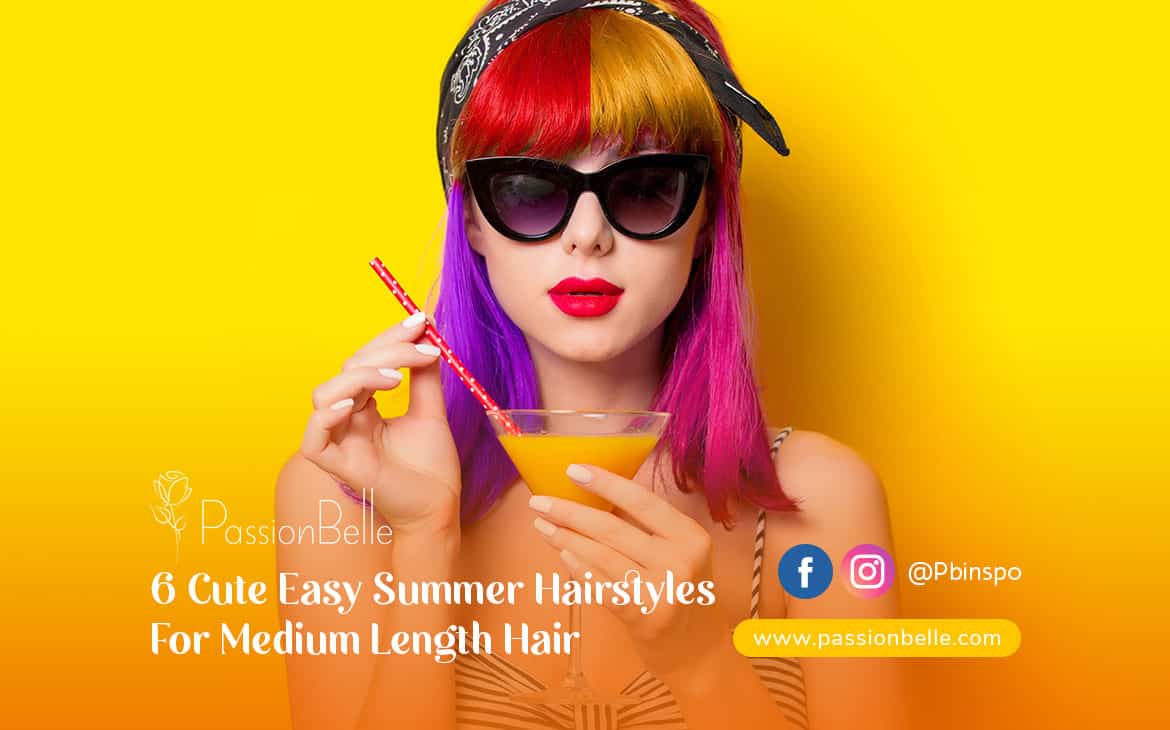 The Best Summer Hairstyles For Medium Length Hair
Braids
When it's hot out, you probably want as much of your hair out of your face as possible. That's where the timeless, lovable braids come in! Not only can you rock a super cute hairstyle, but you can also keep your hair out of your face.
French Braid
Feminine and timeless, the French braid is the perfect hairstyle to rock to your bottomless brunch or to the office.
How to French Braid:
Divide your hair into 3 even sections.
Weave the left section over the middle then the right section over the middle.
Then, pick up extra hair from the surrounding areas and add it into the braid as you go.
Add more hair to the left, cross it over the middle, then add more hair from the right and cross it over the middle. Continue this all the way down.
Once you reach the nape of your neck, continue with the beginning 3 strand method until you've run out of hair.
Secure your braid with a hair tie, tidy up any loose strands with bobby pins, and your hard work is done!
Claw Clip
Claw clips have made an undeniable comeback, and they are here to stay for summer. And you don't have to be a hair expert to style your hair with a claw clip! All it takes is a twist and clip for a stylish 90s inspired look.
The French Twist
This classic claw clip twist gives the illusion of a chic updo that took forever to do. No one will suspect you just clipped your hair up seconds ago!
How to Rock the Claw Clip:
Gather your hair into a low pony and twist it until all of your hair is lightly coiled. This will take a few twists for medium-long hair.
Bring the twisted pony up to the middle of your head and place it where you want the clip to sit.
Grab your claw clip and secure the twisted pony into place. This may take a few tries to get it to sit perfectly!
Style the loose ends of your hair to your preference, and you're all done! It's seriously that easy.
Ponytails
Whether it's a casual low pony, an Ariana Grande-inspired pony, or a braided pony, the classic ponytail will forever remain a staple. When it's too hot to leave your air-conditioned room, the loyal pony is probably your go-to hairstyle.
Sleek High Pony
Say goodbye to limp, sad ponytails and hello to thick, voluminous, sleek ponies! With Inhhair ponytails, you can take a boring pony to the next level and make it red carpet-worthy with little effort!
How to Style a Sleek High Pony:
Brush your hair and tie it up into a high ponytail.
Wrap the Inhhair Velcro tail around your ponytail.
Insert the small comb that's attached to the extensions underneath your hair tie.
Secure the end of the Velcro tail with bobby pins. Minimal effort for a hairstyle that looks as if it was style by professionals!
Space Buns
Not only can you keep cool, but you can sport a funky hairstyle too! Perfect for keeping your luscious locks out of your face while looking trendy at the same time.
Classic Space Buns
One of the best hairstyles for medium length hair, space buns are the perfect look for your summer music festivals!
How to Style Classic Space Buns:
Brush your hair, then part it down the center.
Tie your hair into two pigtails. You can tie them as high or low as you'd like.
Twist your pigtail until it is coiled. The tighter you twist, the smaller the buns will be.
Wrap the hair around the base of the pigtail into a bun.
Secure it with a hair tie at the base of the bun.
Repeat on the other side, and now you have two out of this world space buns!
Half-up Half-Down
Can't decide if you want to wear your hair up or down? Why not do both! You can rock a feminine, chic hairstyle without your hair annoying you every few seconds. Perfect for medium and long hair, this hairstyle will be your go-to for those summer nights out!
Topsy Tail
A little twisting and tucking take the classic half-up half-down pony to the next level. Not only does it keep your hair out of your face, but it's also a chic look you can rock day and night.
How to Topsy Tail:
Gather half of your hair into a ponytail.
Use one hand to create a pocket of space just above your hair tie.
Using your other hand, pull your ponytail up and through the gap.
Pull the pony down to tighten it.
Optional: add some cute hair clips to take your look to the next level.
Heatless Curls
Some days you just want to skip the heat. Luckily, there are ways you can achieve gorgeous curls without a trip to the salon or whipping out your curling iron.
Beach Waves
This scrunching technique doesn't require any heat, and it's one of the most effortless yet elevated hairstyles for medium length hair. All you need is mousse and your hands!
How to Get Beach Waves:
Apply a generous amount of mousse to detangled, damp hair.
Bend your head forward and allow your hair to fall in front of your face.
Grab small sections of your hair from the ends and scrunch it up towards your scalp.
Continue scrunching all your hair until it is almost dry.
Optional: apply a smoothing serum to tame any flyaways.
For more on hair care and beauty, join our newsletter below!